Hello all of you! First of all: the launch and first few months of having A Memory Called Empire out in the world have been amazing: really a thrilling, enormous, and wonderful experience. Thank every single one of you who has bought a book, come to an event, and/or talked about the book to your friends and community. Please do keep doing so.
READERCON
This coming weekend (7/11 - 7/14), Viv and I will be headed up to Boston for Readercon, which I'm very excited about — we go to this convention almost every year, but this year will be the first time either of us gets to be on programming. If you're at the con, this is where you can find me (if I'm not in the bar…)
THURSDAY @ 9 PM - Reading (Salon C)

FRIDAY @ 3 PM - Panel: 'The Horrors of Being Female' (Salon 4)

FRIDAY @ 4 PM - Panel: 'Why Does Space Get the Opera and Cyber the Punk?' (Salon 3)

FRIDAY @ 8 PM - Panel: 'The Etiquette of Criticism' (Salon B)

FRIDAY @ 9 PM - Autographing (Autograph Table)

SATURDAY @ 2 PM - Panel: 'I Don't Know Why I'm On This Panel' (Salon 4)

SATURDAY @ 3 PM - Panel: 'You Know, It Kinda Grows on You' (Salon B)
LATE SUMMER EVENTS & WHAT'S NEXT
On August 6, I will have the absolutely delicious pleasure of spending the evening with Max Gladstone at Housing Works Bookstore in Manhattan, talking about his totally brilliant new novel Empress of Forever and my Teixcalaan books. Expect us to get into the weeds on rulership, ethics, science fiction, and immortality.
I also have a story coming out in a new anthology from Saga Press called The Mythic Dream - release date is September 3, and I am incredibly pleased, because when else do you get to write a space opera/cyberpunk remix of the Hymns to Inanna? My story is called 'Labbatu Takes Command of the Flagship Heaven Dwells Within', and it is both extremely on brand and, ah. Much filthier than my usual linguistic register, but hey, Inanna is the goddess of sex and war, okay?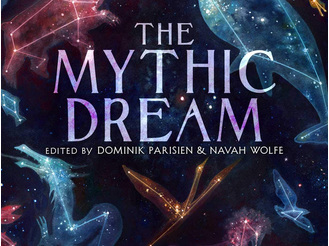 THE MYTHIC DREAM. Out on September 3rd! Contains me, as well as stories by Amal el-Mohtar, Sarah Gailey, Rebecca Roanhorse, J.Y. Yang, John Chu, Ann Leckie, T. Kingfisher, Carmen Maria Machado … amongst others!
After that, things get slightly puzzling — I'm in the middle of applying to new jobs, having acquired my master's in city planning, and we may or may not be moving, and oh also I'm about ten thousand words from the end of A Desolation Called Peace, AKA Teixcalaan #2. All is transition! All is liminal! Help, etc.!
But it's great, too. I have many, many interesting plans for what comes next from here…